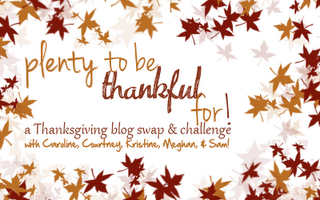 every year, a week or so before thanksgiving day, my friends throw what's come to be known as our annual
urban family thanksgiving
. this little tradition gives us a chance to celebrate the holiday together before going our separate ways for family fun. (it also gives us the chance to eat a big thanksgiving dinner
before
thanksgiving!)
it's important to be with family on the holidays, obvs. but i think it's also important to be with the people we'd
choose
for family, if we could. urban family thanksgiving let's us do just that.
this year the party was at my apartment, which was a lot of fun. i drank a few
spiked ciders
before realizing that i hadn't taken any pictures, so the ones that follow were taken a) under the influence and b) in a desperate attempt to capture the evening. i wish i had taken more, but there's always next year!
i ran out to costco the day of the party to pick up flowers. i got these bad boys and a bunch of other bouquets as well as a poinsettia that got lots of compliments. who knew costco had such great flowers?
my hubs and our bully boy in the kitchen.
we turned the office into a beverage room when the kitchen started over-flowing with food.
my sweet friend, tia.
friends at the end of the night.
dan & suzie -- so cute!