so here's the deal -- i'm participating in my first ever blog swap/challenge, and i'm 100% giddy about it! i've always wanted to do one of these, but i've always been sort of...nervous about it? i'm not sure why exactly, i think i'm just strangely social awkward sometimes. but whatevs! time to grow up. GAME ON.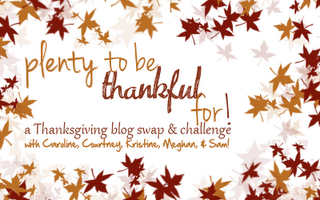 here's how it works: every day for the next 11 days, i'll be participating in a blog challenge where i write thanksgiving themed posts based on a topic chosen by the challenge/swap hosts. i'm excited about this part because the topics are FUN, and [because i'm a huge nerd] i sort of love having assignments.
now comes the really fun part! the challenge/swap hosts match each participant up with a partner, and we're going to swap packages filled with stuff we're thankful for.
this feels like sorority initiation week all over again and i freakin love it!
the first topic is, "i'm thankful for my guilty pleasures!" so here i go.
////
i asked my husband what he thought my guilty pleasures were and he said, "do you have any pleasures you
do
feel guilty about?" i love that man. and he's right -- i'm sort of loud and proud about all the things i love.
ten things i love that i sort of feel guilty about (but not really):
1.
chain restaurants
:: i live in a city known for great food, but sometimes a girl just needs to get her Chilis on.
2.
sephora binges
:: laura mercier tinted moisturizer, NARS orgasm blush, YSL concealer.
3.
boxed wine
:: specifically, the archer farms wine cube. there's always one (or two!) in my fridge.
4.
photography apps
:: i have LOTS.
5.
whoopee pies
:: specifically, the trader joe's pumpkin whoopee pies -- they cannot be beat.
6.
carbs
:: i love noodley carby carbs (see pic above). i only feel guilty about this when i can't stay awake after eating.
7.
great shoes
:: a wise friend once told me that when you buy the best, you only cry once.
8.
taxis
:: if it's cold and i'm tired, i'm gettin' in a cab.
9.
sleep
:: i average eight hours per night. (my hubs might tell you i'm averaging nine these days.)
10.
media
:: i am looking at a computer/tv/ipad/iphone the majority of the day.